Test Day #1 – 09 JAN 05 - (Las Vegas, NV to Phoenix, AZ)
We departed one day early from the international Consumer Electronics Show - where we show-cased the VEIL product-line in conjunction with Blinder Xtreme's M-20 & M-40 laser jammers and Xtreme Motorsportz -to begin our test drive.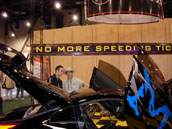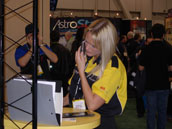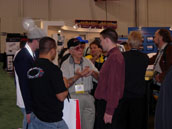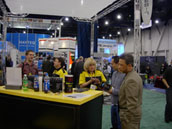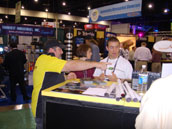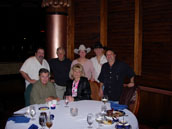 VEIL & Blinder CES Crew
Our trip originated at Michele's French Country Cottage, the only bed & breakfast, of which we are aware in Las Vegas, NV. Michele was a wonderful hostess who prepared fabulous breakfast cuisines every morning for us during our stay for CES. If you are looking for a quiet stay in Vegas, this B&B is a must stay.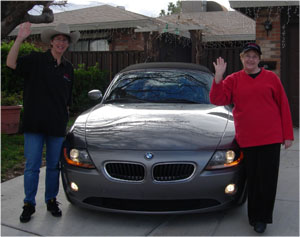 Veil Gal & Michele
We got on the road at 0930 and proceeded south on Route 93 towards the Hoover Dam on our way to our first destination – the outskirts of Phoenix, AZ for a meeting with Craig Peterson of RadarTest.com, a leading radar detector authority and automotive journalist.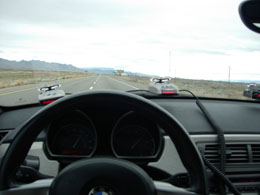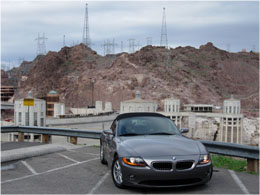 Route 93S on way to Hoover Dam
On this initial testing day, we placed all three radar detectors equally spaced across the windshield. Our reason for doing this was not to really compare the radar detecting performance of each - in an absolute sense - but more to get a feel for the ergonomic differences that exist between all three.
During this part of our trip there were no encounters worth mentioning and again all with three radar detectors all running concurrently, we would tend to discount absolute performance in this environment.
We actually began to carefully examine the performance capabilities in the subsequent days of this comparison.
Overall they seemed to get along together quite nicely - a testament to the advanced shielding employed by these radar detector designs.
During our visit with Craig, he gave our set-up a look over and recommended, for our driving route, to set the Ka operation of the RX65 to USA mode. Who were we to argue?
© Copyright MMV Veil Corporation. All Rights Reserved.