Respite, 2nd Honeymoon - 12 JAN 05–14 JAN 05 (Sasabe, AZ)
We stayed at the ranch for three days of enjoying absolute piece and quiet. This place was simply fabulous and we were fortunate to have it all to ourselves – no other guests were staying here at the time.
We experienced awesome horseback rides in this isolated part of the West. We couldn't help but feel a little like a couple of City Slickers, but our two female (Kim & Melanie) wranglers were much more pleasant to ride with than the two characters in the movie and although Curly wasn't around, Mike was every bit as good as the lead wrangler - he's definitely a genuine Marlboro man!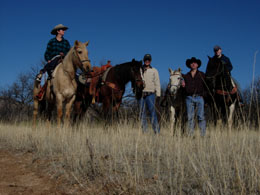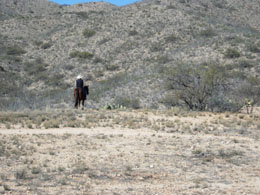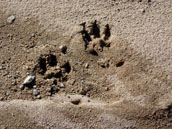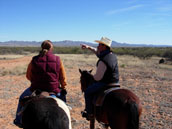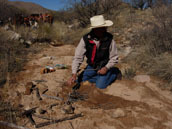 A Day on the Range of Southern Arizona
Every day we were treated to three square gourmet meals by expert chefs. The staff was a real pleasure to stay with and Veronica (the Ranch owner) was delightful. If you're looking for a place to stay away from the crowds; want to "untwine your knots;" and get a taste of the Wild West, we highly recommended a visit. Be forewarned, though, there's no TV and no cell-phone coverage. Come to think of it - it's just what the doctor ordered...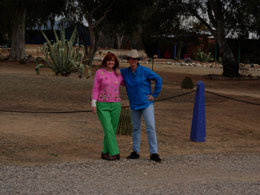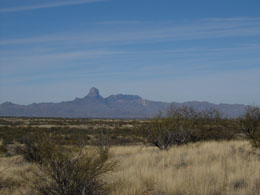 Veronica & Veil Gal - Sacred Baboquivari Mountains
© Copyright MMV Veil Corporation. All Rights Reserved.