Real-World Performance / The Drive
Our Test Vehicle (Western Route)
We selected a test vehicle that would serve our enthusiastic driving requirements that wouldn't break the bank in the process. We settled on a 5-speed sterling silver BMW Z4 convertible for our 1500 mile journey. The Bimmer was rented from Rent-A-Vette of Las Vegas, NV, an agency that offers high-line vehicles for hourly (ouch), daily, or weekly rentals.
Besides being hideously expensive to rent, we resisted our initial urges to selecting a yellow Lamborghini Gallardo or the "arrest-me-red" Ferrari 360 Modena for the test as we really didn't want to attract that much attention, considering our expected driving style. These works-of-art look like they deserve a speeding ticket while parked!
Of course, we immediately applied VEIL to our rental vehicle in the event we inadvertently stumbled upon a laser speed trap - try doing that with a laser jammer!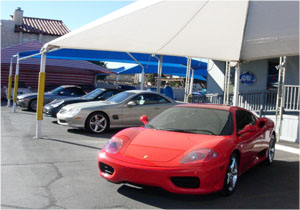 Driving Conditions/Style
While we don't condone speeding, we wanted to use these detectors in a manner consistent with their intent - to protect their drivers from would be speeding tickets!
As such we routinely cruised "in excess" of posted limits and sometimes found our speed to be occasionally north of the "century mark."
Granted, rural areas of western states are a bit more conducive to this sort of driving. In other words, we wouldn't necessarily attempt driving as boldly in urban areas and/or more populated states with more heavily traveled roads - but we did want to experience the full potential of these great radar detectors.
Our Western Route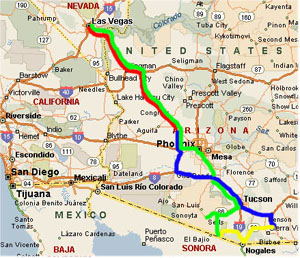 Red - Day 1, Blue - Day 2, Yellow - Day 3, Green - Day 4
Our Eastern Route
We decided to add two additional days of driving to include several eastern states (PA, NJ, NY) since we had as yet to encounter a bona-fide X-band or laser speed trap. Our "target" vehicle was a late model BMW 540i Sport which had been treated with VEIL for about nine months and was still going strong. We chose a route that would take us through some of the most heavily patrolled areas of NJ and NY (I-78 and I-87, respectively.)
During this segment of our driving route, we came to realize that the "texture" of traffic enforcement is different, in feeling, than that of the West. In this portion of the country, there tends to be a much greater likelihood of being targeted with instant-on/pulsed radar. Although we had encountered some of these kinds of speed traps during our 1500 mile trip out West, they where in the minority by comparison.
We believe, in this driving environment, extreme sensitivity must be balanced with a minimal propensity to "falsing" so as to not dilute the sense of urgency of any given radar/laser alert.
Although the term "false" may be misrepresentative - as any alert is likely from a legitimate radar/laser source - we use it here to mean from a source other than a confirmable speed-enforcement related origin (i.e.; trooper or traffic speed sign).
© Copyright MMV Veil Corporation. All Rights Reserved.