Police laser (sometimes called laser radar) is the most challenging speed enforcement technology you face today as a driver. Furthermore, police laser is virtually impossible to beat in court.
When used alone, radar detectors and laser detectors won't provide you sufficient protection from police laser speed traps. Even laser jammers aren't full-proof and their use is becoming outlawed in an increasing number of states.
The average cost of just one speeding ticket today including the fine, court costs, and years of subsequent insurance surcharges can easily exceed $800!
For a small fraction of that amount, you can avoid this hassle altogether by using VEIL and VEIL pays for itself, many times over and costs a fraction of the best radar detectors, laser detectors, laser jammers, and unproven radar jammers.
VEIL is a military-grade anti-laser stealth coating for your headlights which absorbs police laser radar. Veil effectively reduces police laser's targeting range to fewer than 500 feet and can provide up to 2100 foot targeting reductions.
VEIL gives you up to 10 or more seconds of additional reaction time to alerts. Be able to safely slow down and avoid costly speeding tickets.
VEIL eliminates reflections of police laser from your headlights. These sources are your vehicle's greatest weakness to police laser.
VEIL always improves the performance of all laser jammers and anti-photo license plate covers.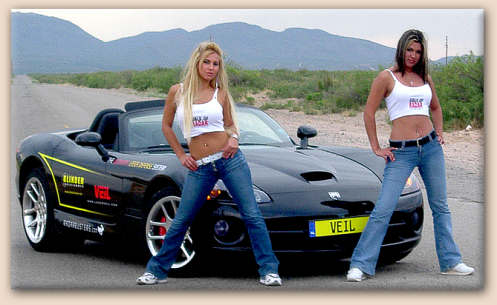 "Girls of Radar" with Veil Anti-Laser Stealth Viper