One of the configurable options or "preferences" of the Escort Passport 9500i is the ability to display in real-time the current speed of the vehicle. Speed is updated every second and I have found the 9500i to be more accurate than the speedometer (due to Plus 0 sizing of the Bimmer's tires).
When placed in clear view, I found that I could use the Escort Passport 9500i as a "poor man's" HUD, enabling me to be much more conscious of my speed without having to look down at my instrument cluster and taking my eyes off the road in the process - a nice safety feature. No more, "I really wasn't going that fast, officer!"
UPDATE: As of 3/26/07 our production 9500i is no longer restricted in its top-speed readings of 127mph, we are happy to report. We briefly flirted with 130mph this afternoon before running out of road...Thanks, Escort, for addressing this one.
The Escort Passport 9500i allows its owner to quickly & permanently mute out known locations of stationery sources of falses (primarily X & K door openers). This makes the morning and evening commutes much more pleasant and quiet - without handicapping its performance with City mode.
The other novel capability of the Escort Passport 9500i is the identification of points of interest, namely non-RADAR speedtraps and redlight camera locations. In Pennsylvania, only state troopers are allowed to operate police radar (k-band) in stationery mode. Therefore most local traffic enforcement departments utilize some form of VASCAR, most of which are stationery. Since these speedtraps are electronically timed, a conventional radar detector would be of little value as no radar is employed. Futhermore, redlight cameras are beginning to appear in the Philadelphia area and I have no idea where they are really located. The Escort Passport 9500i allows its owner to accurately mark/identify these locations, a very nice feature indeed.
As the Passport 9500i is this is the first radar detector that we have encountered which utilizes a USB port, the potential for preloading a regional or nationwide database of stationery radar drones, speed signs, EZ Pass lanes, automated photo radar, photo lidar traps, and redlight cameras (as well as Gatso and Multanova for our European friends) is promising. Very very cool.
The Escort Passport 9500i's GPS capability also enables another feature which we found nice. Speed sensitive radar sensitivity. The AutoScan feature of the Escort Passport 8500 X50, Beltronics RX-65 Pro, and BEL STi Driver gives way to an AutoSensitivity mode of the 9500i.
At city driving speeds, the Escort Passport 9500i will automatically descrease its sensitivity to X and K-band sources (Ka-band is unaffected). As speeds increase so does the sensitivity of the 9500i. No more having to manually change sensitivity from Highway to City and vice-versa.
The Escort Passport 9500i has borrowed features from the Beltronics RX-65 Pro - namely selectable Ku reception ability, SWS support, and voice supplement (female). Like the Bel STi Driver, the push buttons are illuminated and the detector can be set to auto dim its display for all variety of lighting conditions.
The Escort Passport 9500i comes with a built-in USB interface allowing direct hook-up to your personal computer or laptop.
When I connected the 9500i to my PC, Windows XP correctly identified the device as a 9500i but without the 9500i software drivers, I wasn't able to do anything with it. My understanding is that Escort will release the software [and data] (perhaps as an paid option or on a subscription basis) later in the year. I can't wait! [ok...ok, I'm a geek]
9500i Driving Impressions
After living with the Escort Passport 9500i for a little more than two weeks and about 500 hundred miles, I am finding that this detector is living up to its promised innovativion.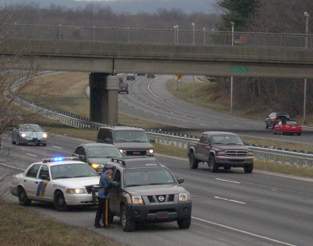 What we were able to avoid with the Escort Passport 9500i.
The operation of the Escort Passport 9500i feels very much like an Escort Passport 8500 series: Ka-band reception appears on par with the top four (Escort Passport 8500 X50, BEL STi Driver, Beltronics RX-65 Pro, Valentine V1). X & K-band reception performance and signal ramp seems to lag quite a bit behind a production Escort Passport 8500 X50 (even on highway mode) and will most likely improve when the finalized production version is released in March, 2006 (only a very small number of these pre-production Passport 9500i models were produced).
UPDATE: As of 3/24/07 our production 9500i appears to still need some sorting out on X/K reception particularly from the low-mid level to full signal strength ramp-up. We will continue to put it through its paces on the open road for our up-and-coming Ultimate Radar Detector Review 2007.
As with the Escort Passport 8500 X50, the Escort Passport 9500i's X-band reception appears to suffer a bit when Ka reception is enabled (relevant to New Jersey drivers).
Laser performance should be at least on par with an Escort Passport 8500 X50, which is very good.
Volume is louder and fuller than the Escort Passport 8500 X50 and can be set to increase or decrease based upon ambient conditions.
The radar alert tones more closely approximate the Valentine 1: beep for X-band, Ku-band, brap for K-band, and brap-brap for Ka-band.
Manual muting takes place at a quick push of the cigarette lighter power adaptor's button, a real convenience as compared to having to lean forward to push the button manually on the Valentine 1. Automuting can be set as well to automatically decrease the alert volume after the initial warning.
I am pleased to see the angled face-plate of the Escort Passport 8500 X50 giveway to a flat-faced version ala the RX-65 Pro which means this detector is equally suited to both right-hand and left-hand driving arrangements.
Brightness levels and readability in tough lighting are excellent. Furthermore, the Passport 9500i can be easily configured to report in metric meters and kph in addition to English feet and mph.
All of the Passport 9500i buttons are illuminated like the Beltronics STi Driver, however since they are all located on the top of the detector housing, their utility is somewhat diminished - a nice touch, though.
Speaking of the chassis, the Passport 9500i casing is similar in material to the Escort Passport 8500 series but is black instead of gray and its physical dimensions approximate the 8500 series as well.
On initial power-up and after sitting powered off for a while, the detector takes up to 30 seconds to establish the location of the overhead satellites (indicated by a rotating satellite icon on the display). When powered off for brief amounts of time, the detector re-establishes contact immediately.
On one morning of extremely dense cloud cover (the kind the encompasses the entire state), the Passport 9500i lost connection six times in the course of the first ten minutes of driving but ultimately was able to maintain subsequent communication to the GPS system. Like all GPS devices, the Passport 9500i requires a clear line of site to the sky above and will lose connection to the satellites when driving through tunnels and parking garages. Fortunately, the Passport 9500i quickly re-establishes GPS communication once the view above becomes unobstructed.
Permanently muting a known radar-false source is very easy to perform. During the encounter, simply press the mute button either on the detector or more easily on the light adapter several times following voice confirmation. Permanently unmuting is performed in exactly the same manner during the muted encounter (indicated by a rotating satellite icon on the front display).
This kind of muting is very effective at quieting door openers and motion sensors located adjacent to the road at shopping centers and strip malls, but I often found that I had to mute the same location twice when facing a speed sign or radar drone pointed directly down the highway lanes when approaching from the opposite direction on the return trip.
Although the manual recommends driving with the default setting of [A]utoSensitivity, I actually preferred to drive in [H]ighway mode with permanent muting of falses along my routine driving routes. That way I get the best of both worlds, maximum radar sensitivity coupled with even more quietness than [C]ity driving!
When driving in areas outside of my normal range, I would change the sensitivity of the Passport 9500i to [A]utoSensitivity - as I would not mute out false locations encountered along these routes. This advanced filtering mode only capable with GPS technology makes for a much more pleasant (quiet) ride.